TV Watch: Today Show talks Da Vinci Part III UPDATE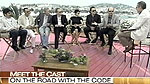 The Today Show is continuing their look at The Da Vinci Code with a trip to Cannes, France and the Cannes Film Festival. The entire cast of The Da Vinci Code was there for a great interview. Take a look!
(20MB MOV)
[
More
]
UPDATE
seems the file gets corrupted near the middle of the interview. I will re-upload another version later today, sorry about that!